What I want is to get a list that looks like that…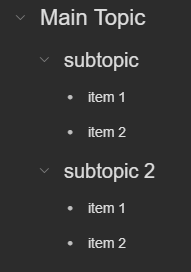 withhout the need to format each line individually.
For a first step I thought about something simple as ->
every line that has subitems gets the MH header format
every line that has no subitem gets no MH format (stays a normal entry)
This way "leaves" can be easily distinguished from "parents".
Maybe there is a css-hack that can do this? I have looked at the tipps here:

But I am not good at css and didn't see a way to format parents and leaves differently.
Ist this already possible or a feature request?
Could someone give me a hint/example if this is possible with a CSS hack?
Thanks
Chris