Hello Checkvist,
I'd like to share a special way of using checkvist as a kind of Kanban board.
I have a couple of lists that correspond to the columns of the board and I display these lists side-by-side. To do so I use the Vivaldi browser that has tab tiling (see example screenshot below), though other browsers may have similar features, either by themselves or by means of a browser extension.
The lists are titled "Backlog", "Work in Progress", "In Review" and "Done", for example, and may contain several projects each including one or more tasks. Each project is in the list that corresponds to its current status. If the status changes, the project is moved to the list corresponding to the new status. This can easily be done by the [mm] shortcut, though mouse dragging a project across the tiled browser tabs is of course not possible. Also, going to another list within a tab (via the [ll] shortcut or the menu) should be avoided in order to maintain the list layout. But the browser may provide shortcuts (such as ctrl-tab or ctrl-1/2/3/4) for changing the active tab so that the setup still allows for keyboard-only navigation.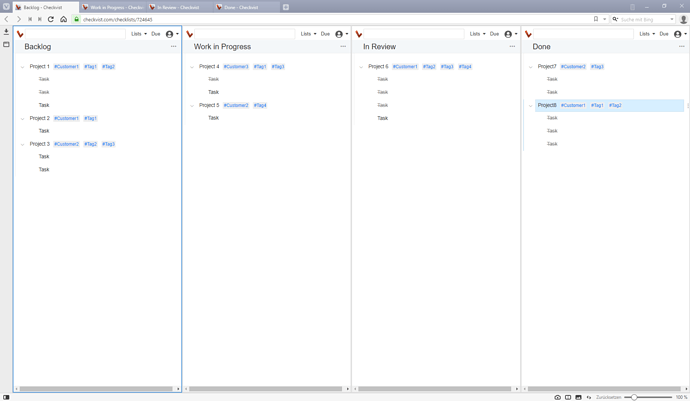 While the setup is kind of a hack, it works rather well for me. Though of course some typical features of a Kanban board are missing, such as defining a WIP limit or filtering collectively across all lists, for example.
Maybe the requirement for a special browser (extension) that provides tab tiling could be avoided if checkvist were able to show multiple lists in a single view with shortcuts for navigation between the lists. What do you think?
Best regards and many thanks for a great product!
soremo