Hello,
Here comes the 'More than 3 colors' preview


Right now - in the testing mode, on https://beta.checkvist.com (same credentials, same data).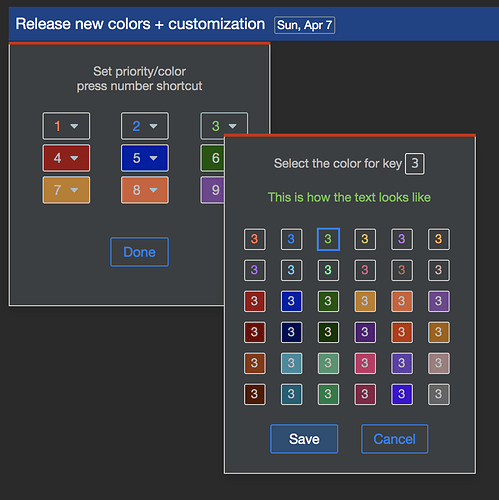 What is ready to test:
9 keys for 9 colors
Customization in the 'colors' dialog, available from the Actions (aa) menu, or on the profile/settings page
Search syntax extended for 9 colors/priorities
Light/dark mode colors
Your old customization with CSS should work as before.
The only PRO feature is color customization. If you need an additional trial period to test it, just drop us an email.
What is still in the works:
Sync colors with the mobile app
What is not started yet, and maybe will go into a separate release:
Smart syntax for colors (smth. like !2, !7, etc)
We hope you can help us with testing, ideas, and suggestions - as usual


Thanks!