@Charles_Heckscher mentioned "sorting" in a different topic. It's an important function for me, too, and I have two remarks.
1. Initial popup state and keyboard navigation.
SS opens like this: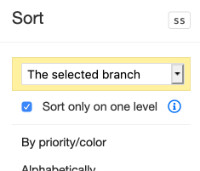 In the vast majority of cases, I just want to choose the sorting criterion. So I need to press at least two times Down. For me, the first order criterion would be a better initial focus location. As with wipe and reset, I mentally struggle with the context/scope selection.

Keyboard: For context selection, Left and Right should work without pressing Enter first. Maybe the sorting critera should have a shortcut, such that e. g., SS D would sort by date and SS P by priority.
Another context/scope that I use – but does not work with sorting – is a (consecutive) selection.
2. I am missing a way to reverse the sort order. First, I thought of an option for SS. Still, it could also be a separate operation or sorting criterion: revert the order the subitems, or of my (consecutive) selection – whatever the current order is.